Handheld Fiber Laser Welding Machine
A handheld fiber laser welding machine is a type of welding machine that uses a high-powered laser beam to melt and join metal parts together. This machine can be operated manually by hand, hence the name "handheld."
Advantages: very low volume area ratio, fast heat dissipation, low loss, so the conversion efficiency is high. Fiber-derived, competent for various multi-dimensional arbitrary space processing applications.
Handheld Fiber Laser Welding Machine Photos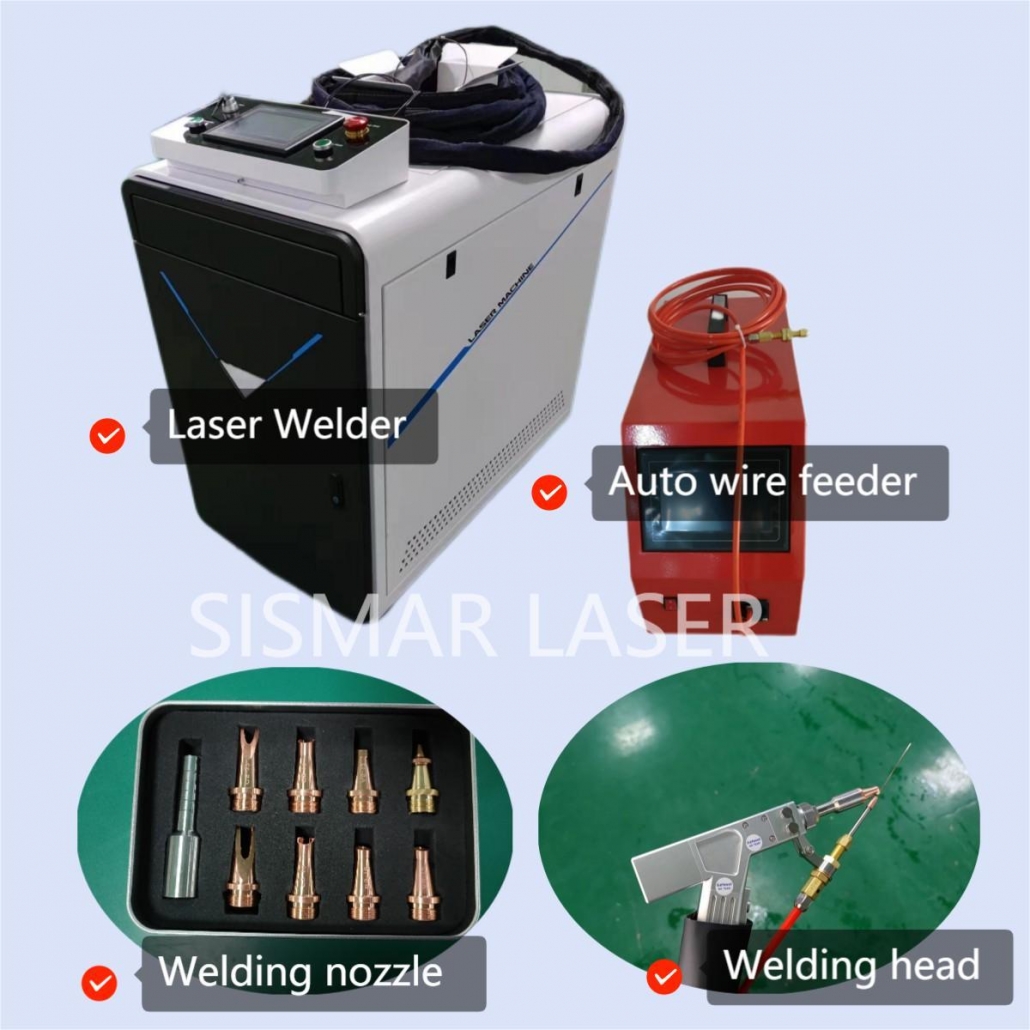 Machine Description
SISMAR Laser handheld fiber laser welding machine adopts the Raycus,IPG,JPT,Nlight fiber lasers and is equipped with high precision laser welding head to fill the gap of hand-held welding in the laser equipment industry.
It has the advantages of simple operation, beautiful weld seam, fast welding speed and no consumables.
Welding of metal materials such as stainless steel plates, iron plates, and aluminum plates can perfectly replace the traditional argon arc welding and electric welding processes.
Can be widely used in kitchen cabinets, staircase elevators, shelves, ovens, stainless steel doors and windows guardrails, distribution boxes, stainless steel home and other industries complex and irregular welding process.
Machine feature
1. The fiber continuous laser welding machine uses 500W-2000W laser, the laser has a long service lifeand the service life can reach 100,000 hours.
2. The electro-optic conversion efficiency is high, and the energy of the power shaving is 25%-30% converted into laser, and the fiber conversion rate is more than 10 times that of the YAG laser.
3. The whole machine has no consumables.  YAG pulse welding machine should replace the xenon lamp and lens regularly.
4. The whole machine has low energy consumption, saves electricity, high stability, maintenance-free, and low cost of use.
5. The laser welding energy density is high, welding speed is four times that of YAG pulse.the weld seam is thin,the thermal deformation is small, and the heat affected zone is narrow and deep.
6. Optical fiber output, easy to match with automated workbench or robot to improve production efficiency,and can meet 24 hours of continuous work.
7. Customizable large workbench and XYZ axis travel.
Parameter
| | | |
| --- | --- | --- |
| No. | Item | Parameter |
| 1 | Name | Handheld fiber laser welding machine |
| 2 | Laser power | 500W/800W/1000W/2000W/3000W |
| 3 | Wavelength | 1070 NM |
| 4 | Fiber cable length | Standard 10m |
| 5 | Working Model | Continuous/Modulation |
| 6 | Welding speed | 0~120 mm/s |
| 7 | Cooling way | Water cooling |
| 8 | Working temperature | 15~35 ℃ |
| 9 | Working Humidity | < 70% |
| 10 | Welding thickness | 0.5-3mm |
| 11 | Welding gap | ≤0.5mm |
| 12 | Voltage | 220 V/380V |
Advantage
Advantages:
1.Adopt integrated structure, that's its control system, laser system and cooling system are all built-in and integrated.
2.Handheld holding welding head is easily operated, picking and moving.
3.Using the fiber laser source .The laser beam quality is quite good, and its output power is stable which can assure the high welding performance.
4.The machine is with the safety control box, which can control the laser beam only comes out when welding starts.
5.Using special welding software .It has function of continuous laser beam, and the adjustable output waveform , which can assure the precious and high-speed welding.
6.It costs very low working consumption. Using laser machine one hour only consume 1-1.5 degree electricity, and weld all kinds of thin metal plates.
7.It can weld a wide range of metal, includes the stainless steel, carbon steel, cooper ,aluminum alloy , Zinc plated board.
8.Very nice welding performance .No deformation, small thermal effect.
Compared to old welding methods
Safety —It has the laser beam output control .Only when the welding head touches the metal surface , the machine can work .It can meet the CE and FDA safety standard .Level Ⅳ
Low consumption —Its electricity consumption is only 1-2 degree in one hour .That's other old method cannot compete.
Performance —The welding spot is even and the welding surface is very smooth and beautiful .Not need the second process after welding.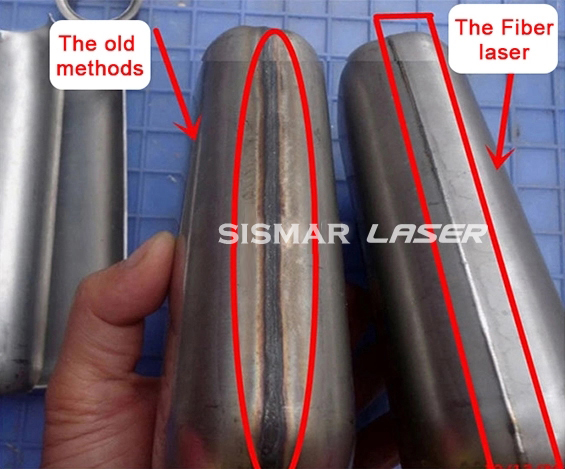 Convenience ––Portable handheld welding head is suitable for holding. The machine only have one box, which can be moved easily .No matter how big of your article, it can do the work .
The standard welding head fiber is 5M long , we could offer 10M customized .
Small dimension —The integrative design makes the machine dimension small .It is suitable for all transportation ways ,includes the express ,by air ,by sea ,by train .
Application
Application:
It can weld a wide range of metal, includes the stainless steel, carbon steel, cooper ,aluminum alloy , Zinc plated board, etc .
For example, welding 2mm stainless steel plates, cabinets and other work-pieces.
It has wide field application, includes aerospace, instruments, manufacturing industry, metal processing industry.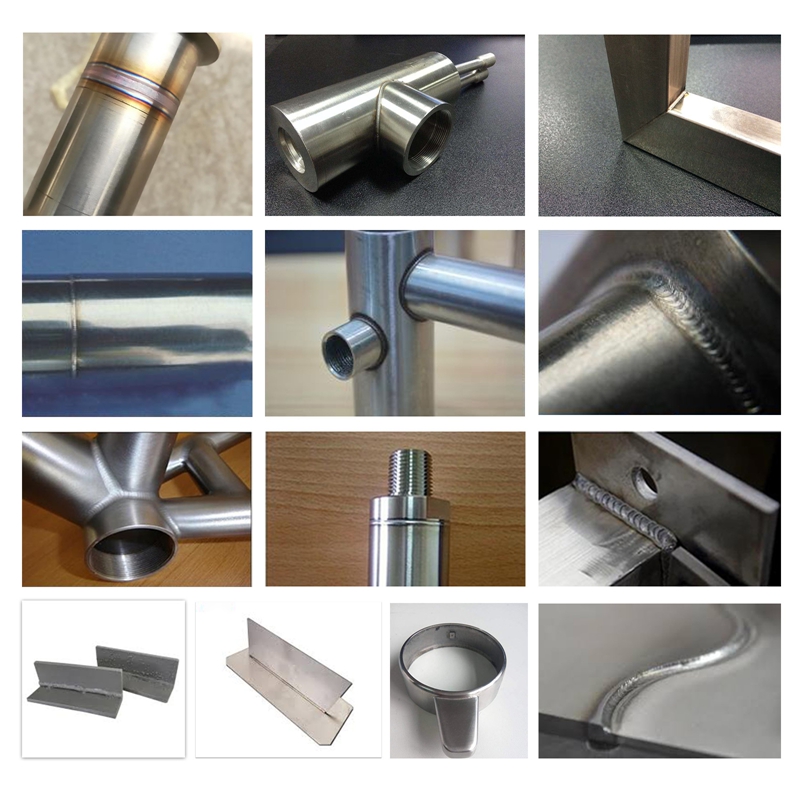 PDF
Handheld Fiber Laser Welding Videos