Mini Fiber Laser Marking Machine
Mini laser marking and engraving machine used any metal, engineering plastics, electroplating materials, coating materials, coating materials, plastics and rubber, epoxy resin, ceramics, and other materials.
Description
Why People prefer Mini Fiber Laser Marking Machine
Mini Fiber Laser Marking Machine is very small, its total weight is not more than 70kg, the floor space is much more less than 1㎡. Due to sea shipping take so long time, most oversea customers prefer to ship machine by air. With mini fiber laser marking machine we can save large cost on shipping. With other machine type, their weight is double than mini fiber laser marking machine at least.
In real application, mini fiber laser marker can be used on most product no matter it is small or big.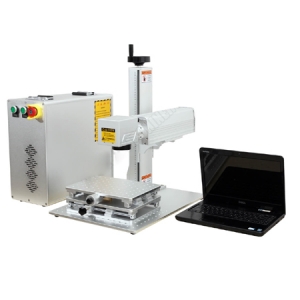 Parameter
| | |
| --- | --- |
| Wavelength | 1064nm |
| Fiber Laser Source | IPG; Raycus; JPT; Max (optional) |
| Laser Power | 10W; 20W; 30W; 50W; 60W (optional) |
| Marking Area | 110mmx110mm; 200mmx200mm; 300mmx300mm (optional) |
| Min. Line Width | 0.03mm |
| Min. Character Size | 0.5mm |
| Marking Speed | ≤16000mm/s |
| Pulse Width | ≤60us |
| Repetition Positioning Accuracy | 10urad |
| Laser Type | Pulse Laser |
| Laser Mode | Single Mode |
| Positioning Mode | Red Beam |
| Cooling Way | Air Cooling |
| Power Supply | Single Phase AC 220V, 50/60Hz |
Advantage
1. Wide range: The mini handheld fiber laser engraving machine can be used on many metal and nonmetal materials.
2. Permanent marking: Laser marking is a permanent marking. It won't fade.
3. Long service time: Fiber laser model has a over 100,000 hours working life. Almost no maintenance during this period.
4. Easy to operate: Support almost any Windows-based software like Coreldraw, AutoCAD, Photoshop.
5. High precision: 0.0025mm re-position accuracy. Minimum line width 0.01mm.
6. Non-contact process: Won't cause mechanical extrusion or mechanical stress to materials. Laser beam won't move the work piece.
7. Portable: Small footprint, easy to move and transportation. Size like a computer case.
8. 20w/30w/50w/60W/100W fiber laser source for choose. 
Application
Laser markers are used in a variety of industries, such as printing 2D codes on automotive parts, logos on electronic components /electrical devices, lot numbers, and many more applications.
>>Applicate materials
Many type of metals: Gold,Silver,Stainless Steel,Copper,Aluminum,chrome Brass,etc
Alloy and metal oxides: Anodized Aluminum
Some non-metallic materials & Special surface treatment:silicon wafer, Poly urethane, ceramics, plastic, rubber, epoxy resin, PVC, PC, ABS, Coating film etc.
>>Applicate Industry
Electrical Engineering and Electrical part and component
Mobile (Cover, battery, keyboard, IPhone Case)
Jewellery(Ring, pedeant, bracelet),eyeglass,clocks and craft
Building materials,PVC pipe
Detail Photos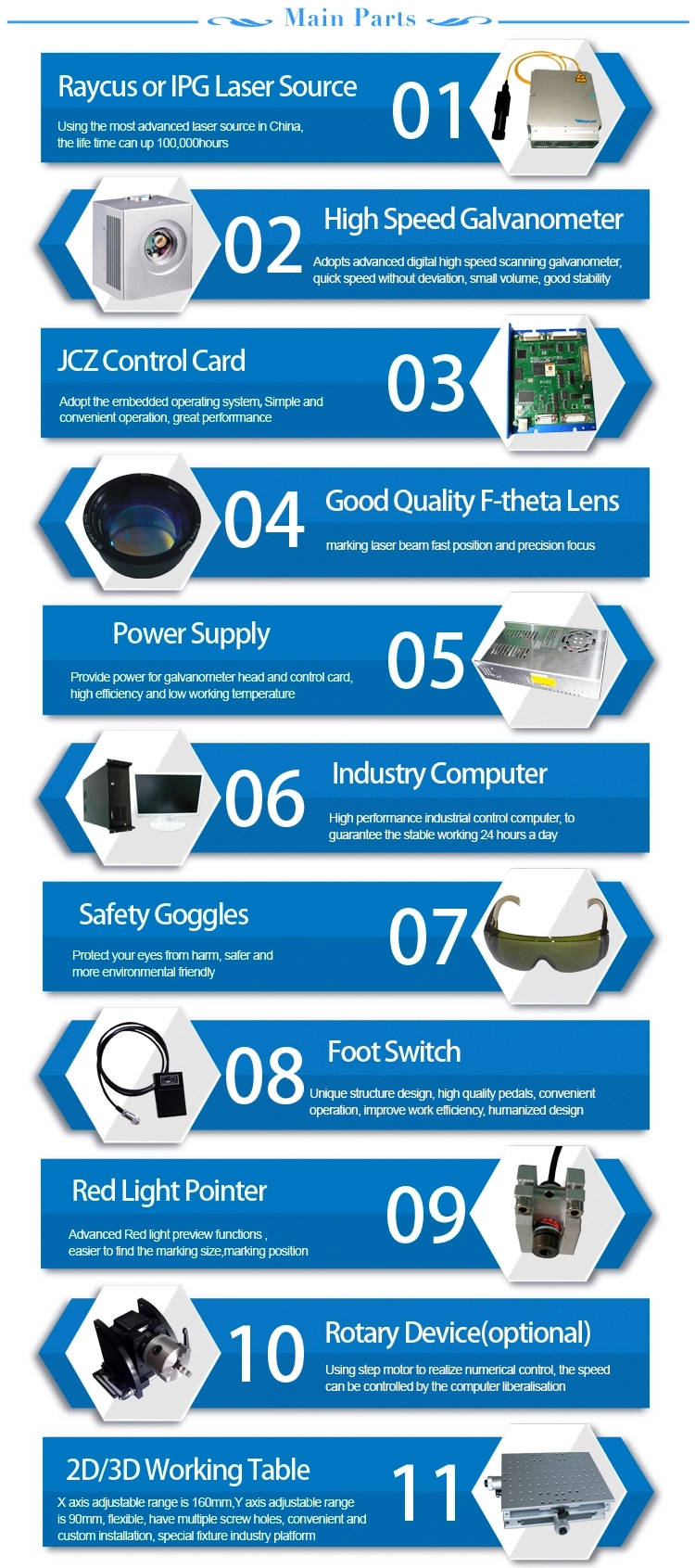 Package photos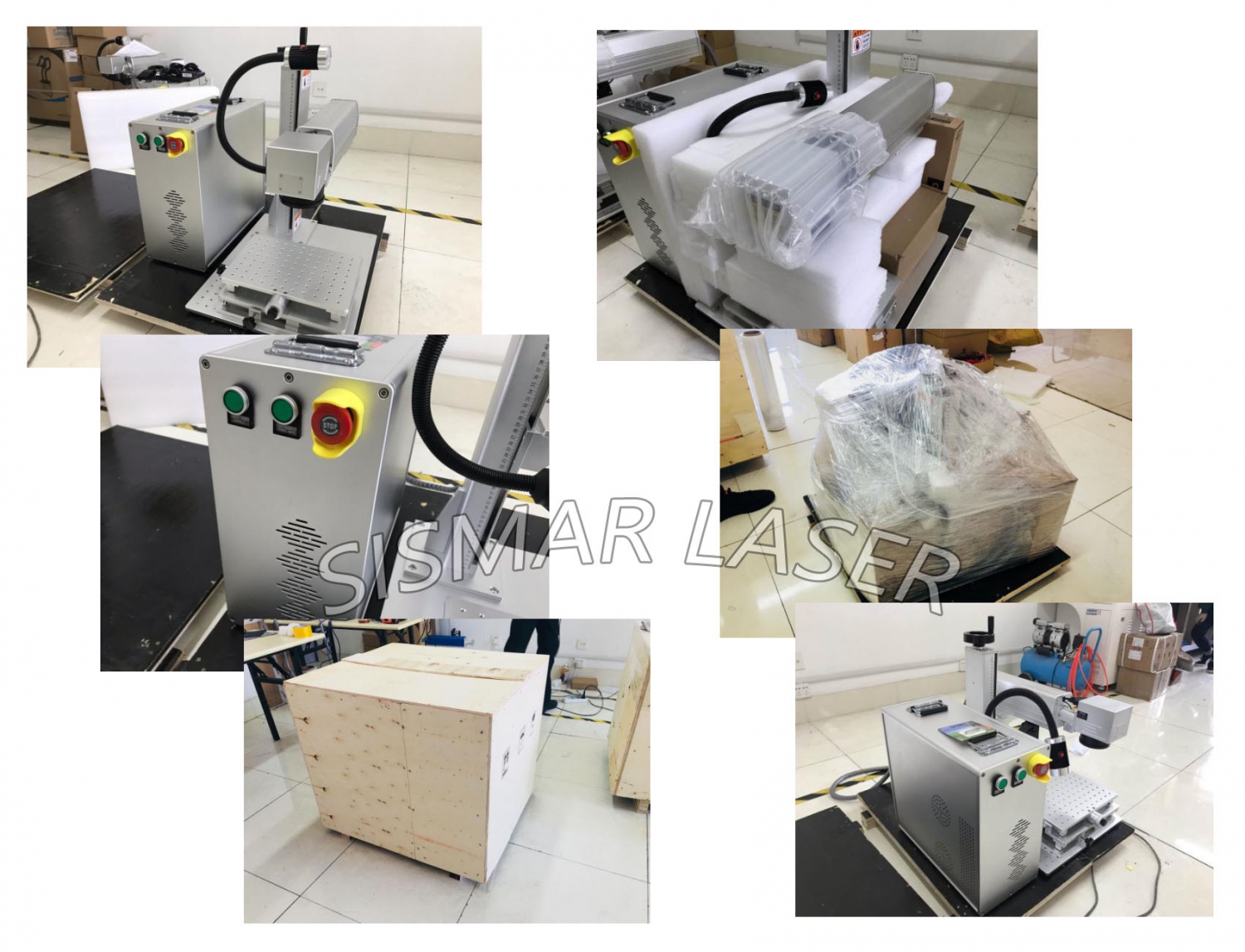 PDF