Portable/Handheld Laser Cleaning Machine
Laser cleaning, also known as laser ablation, uses a laser beam to remove impurities and contaminants from the surface of a material through irradiation. Such impurities may include unwanted insulation, paint, rubber coating, and rust.
Description
SISMAR LASER Handheld laser cleaning machine power supply, which is readily available from most power outlets in homes and industries. Its power consumption clocks at 800W, which is fairer than most other laser cleaning machines that the market has to offer.
1. Fully enclosed external light path, computer threshold control system, the industrial rust remover can efficient cleaning the product surface and does not hurt the machine.
2. High-precision cleaning, strong controllability.
3. The traditional cleaning method is often contact cleaning, the surface of the cleaning agent has a mechanical force, it is easy to damage the surface of the object or the cleaning medium attached to the surface of the object can not be cleaned, resulting in secondary pollution. The laser rust removal machine without grinding and non-contact solve these problems.
4. Hand-held or integrated automation of this laser rust cleaning machine operation, it is very simple and convenient.
5. The cleaning effect of this handheld laser rust remover is very good, cleanliness is very high, greatly improving the cleaning efficiency.
6. Compact body system, space-saving, this handheld laser rust remover can be moved to any place.
Advantage
Advantage of Handheld/Portable Laser Cleaning Machine
It's a non-contact, non-abrasive process. Home remedies are messy and unhealthy. Scrubbing off rusted surfaces exposes you to impurities which could lead to respiratory complications. Laser cleaning, on the other hand, relies on the laser beam to ablate the surface. There is no physical contact between you and the rust.
No use of chemicals. Rust remover chemicals can get the job done, but the health implications on their use outweigh their benefit. Such chemicals are not only harsh and abrasive but also emit intense fumes. You will need to wear protective gear such as a respirator, goggles and rubber gloves before using them. However, laser cleaning does not rely on any chemical application. It is the better choice as it does not put your health at risk.
No secondary waste is produced. Scrubbing off rust from surfaces only disintegrates the rusty particles from the substrate, leaving you with a toxic lump of rust dust at the end of the process. Electrolysis leaves the rust particles floating in the water, which you later have to dispose of. In comparison, laser cleaning is a cleaner process as the rust particles are either vaporized or turned into plasma, leaving no evidence of waste.
High precision. The focused laser beams have an extremely precise focal edge, allowing you to ablate rust from tough spots that would otherwise be harder to clean with other apparatus. Such include the rust that develops around bolts and rails. Additionally, the high precision allows you to focus the laser beam repeatedly over a specific area to achieve the required depth and result.
It's effective on all surfaces. Unlike other rust removal procedures, laser cleaning works on all surfaces that are prone to rusting, including stones, concrete, iron, aluminum (bauxite) or copper.
It does not degrade the substrate. Scrubbing rusted surfaces significantly degrades the substrate due to friction. Rust removing chemicals, on the other hand, are harsh and corrosive, causing wear and tear that could spoil delicate metals or even weaken their robustness. Laser cleaning in comparison ablates the surface while leaving the substrate untouched.
It is a long-term solution. A laser cleaning machine will serve you longer than any scrubber or rust removing chemical will. The laser does not suffer any wear or tear, and thus can be used and reused over its lifetime.
Application
1.Metal surface rust,
2.Surface paint stripping treatment,
3.Surface oil, stains, dirt cleaning,
4.Surface coating, coating removal,
5.Welding surface / spray surface pretreatment,
6.Stone surface dust and attachments removed,
7.Rubber mold residue cleaning.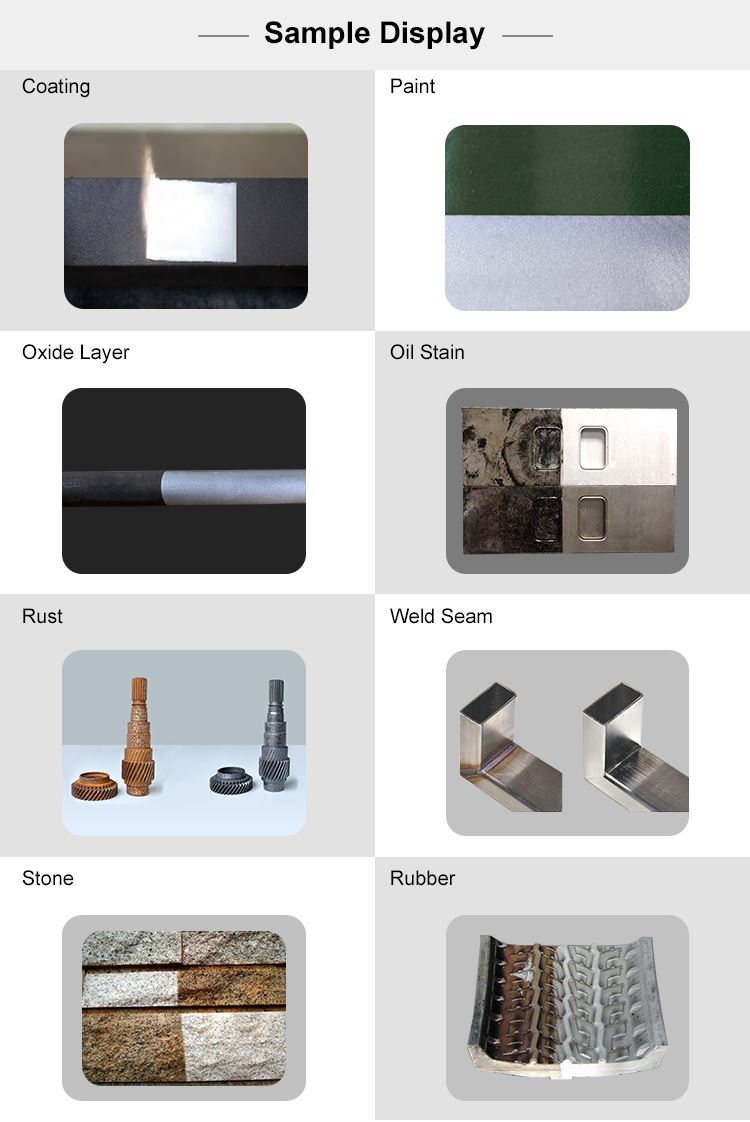 Detail Photos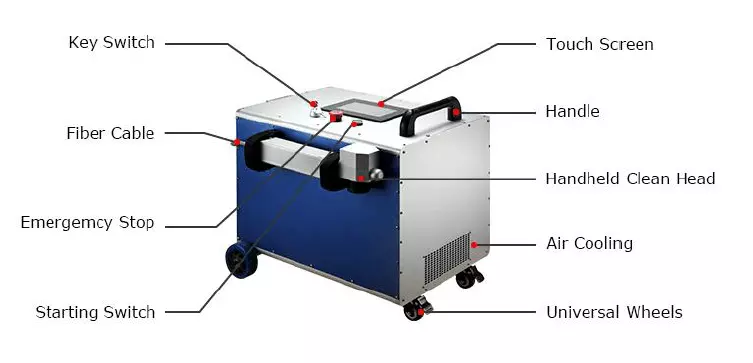 https://www.sismarlaser.com/wp-content/uploads/2019/04/SISMAR-Laser-Logo.png
0
0
linda
https://www.sismarlaser.com/wp-content/uploads/2019/04/SISMAR-Laser-Logo.png
linda
2020-06-30 04:11:04
2020-07-02 02:33:47
Handheld Laser Cleaning Machine